Continuing on from #1 Moisturise...
#2 Priming the Skin
The next step I take is to prime the skin which is a bit of controversial step, if you will! A lot of bloggers feel this is a waste of time, doesn't make a difference to the skin and is often a step that is skipped.
Does it really make a difference?
I think the answer to that lies in your skin type as well as the primer you use. There are hundreds of different types of primers, some are mattifying, some are dewy, some remove the appearance of fine lines and pores whilst others even the skin tone - some even claim to do it all!
The whole concept of priming is the same as if you were to paint a wall. You wouldn't just slap the brush straight onto the wall (apparently...I've never painted a wall :\) it has to be primed first to ensure the paint stays on and glides on smoothly. Sooo... in that same way priming the skin is essential if we want foundation (face paint essentially) to glide on and stay on for a fair amount of time.
In the main picture above, can you see that little black bottle in the middle? That is the 'Murad Skin Perfecting Primer - Dewy Finish' that I received in a previous Glossybox, and I love it. It pumps out a nude colour which is different as most primers are clear, but this doesn't translate on the skin as heavily.
Now, dewy finish... I know what your thinking..what does that mean for oilier skin?! I did not have high hopes for this as I don't consider an oil slick T-zone very attractive but I was surprised to find it controlled the oil in that area and gave a healthy glow rather than accentuating the natural oiliness.
This is a pricey product, I think around the £27 mark for a 30ml bottle, but I used just one squirt on the T-zone and it did a great job.
A staple of mine for a few years has got to be the classic 'Smashbox Photo Finish Foundation Primer'...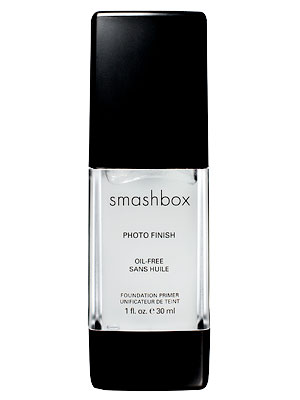 I have been using this on myself for years and always use this on clients; it is a very well known one in the beauty industry. It smoothes the appearance of fine lines, extends the wear of make up and well the name, photo finish, gives the impression it preps the skin for a day of pictures.
And it does... It pumps a clear gel and one pump all over the face after moisturising does the trick. Leave to soak into the skin for about 5 minutes first and you will notice the texture of your skin has changed. This primer seems to create a barrier on the skin which is smooth to the touch and foundation really does glide onto it, avoiding the dry areas and lines or wrinkles so you don't get variation in foundation application - just even coverage all over! It stops the build up of oil from removing make up and less oil means less flashback in photos!
Do they extend the wear of your make up? Hmmmm.... this is a tricky one, i personally don't think they extend it all that much. This Smashbox one does reduce the appearance of oils and perhaps that's what stops the breakdown on my foundation, but if I forget to use it I don't really tend to notice a huge difference.
Be warned however, do not go overboard with this - one pump will be enough, otherwise it can go greasy and not work like a proper primer.
The lady at the Benefit counter grabbed my hand and rubbed the Benefit 'Porefessional Primer' on and I was pretty impressed. (I had to hide this however because when the assistant ask if you want to buy and you say no, they look at you like 'well why not, you're clearly loving the product you cheapskate') It really did minimise the appearance of pores, giving a smoother canvas and that also means foundation is less likely to clog up the skin. This retails at £23.50 and
Honestly, this isn't a step I religiously stick to everyday, I only use primer for special occasions or when I know I will be wearing make up from early morning till late night and need to look extra good. Putting on an invisible gel after moisturising can seem pretty pointless, but with some primers you will really notice the difference. There is such a variety of them on the market now you are sure to find one to suit your needs!
Next...Step 3: Foundation!